Bovey Tracey, Dartmoor
Devon
hello@edgemoor.co.uk
01626 832466
Staying at The Edgemoor Hotel
The Edgemoor is an independent, family-run hotel right next to Dartmoor – perfect for countryside getaways, nature walks, and weekend breaks.
Built in 1879, The Edgemoor Hotel was once Bovey Tracey Grammar School for boys. That history is still very much alive today and can be traced throughout the hotel rooms. We're proud to present a range of historical stays with charming themed décor.
All rooms at The Edgemoor have tea and coffee making facilities, a dressing table, a television, and mirrors. Free Wi-Fi is available in all rooms and throughout the hotel. Irons and ironing boards are available for guest use.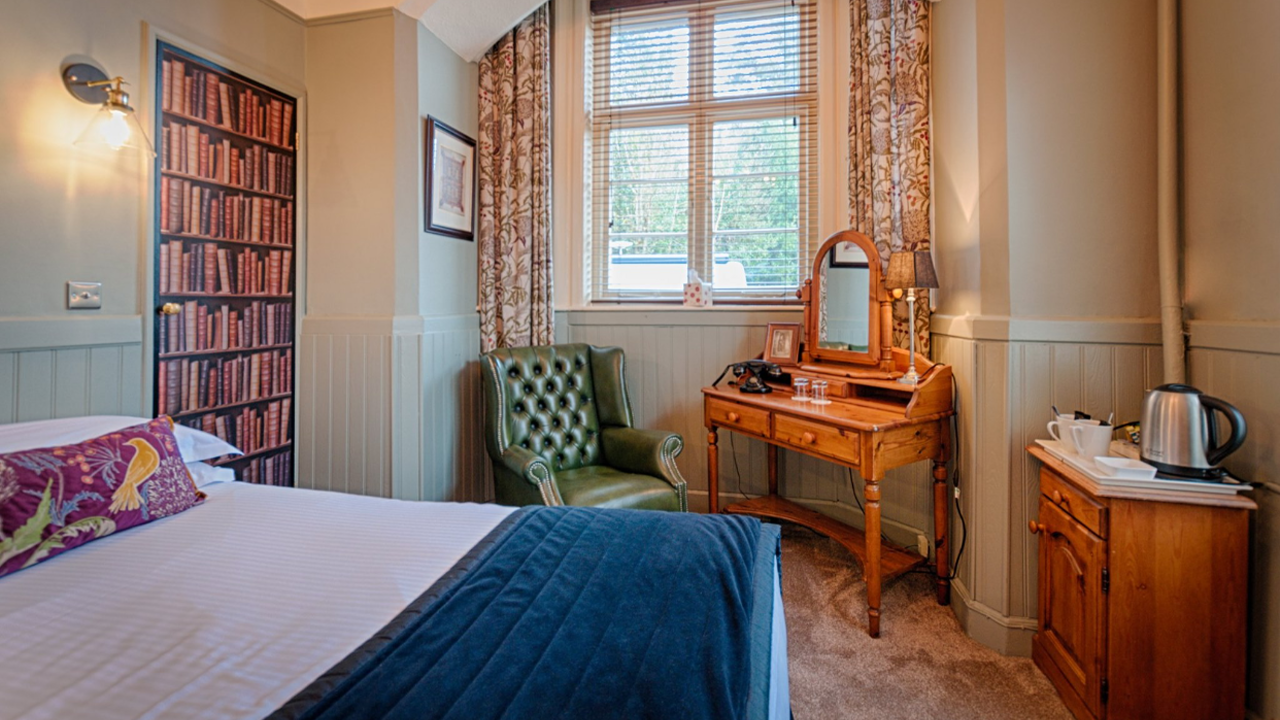 Room 1 - Headmaster's Study
An airy double room on the ground floor that has been converted from the old headmaster's study.
The decoration recaptures the room's unique history. Imagine yourself as the headmaster when sitting in the leather armchair.
The period window offers a wonderful view of the hotel's beautiful garden. Bath with shower. Dog friendly.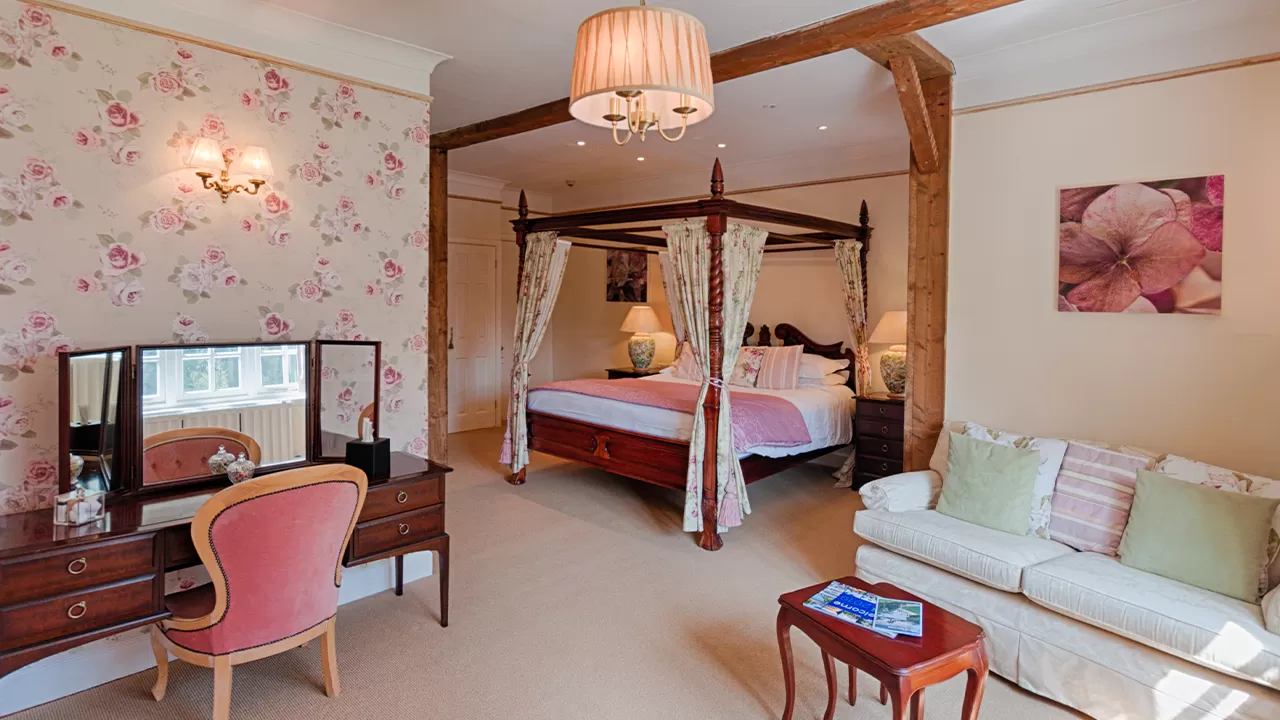 Room 3 - Countryside Comforts
A luxurious and large double room located on the first floor. Enjoy your stay in complete comfort with a four poster bed.
Open the curtains when you wake in the morning to stunning views of the hotel's garden.
Afterwards, chill out in the sitting area as you enjoy the floral countryside decoration. Bath with shower provided.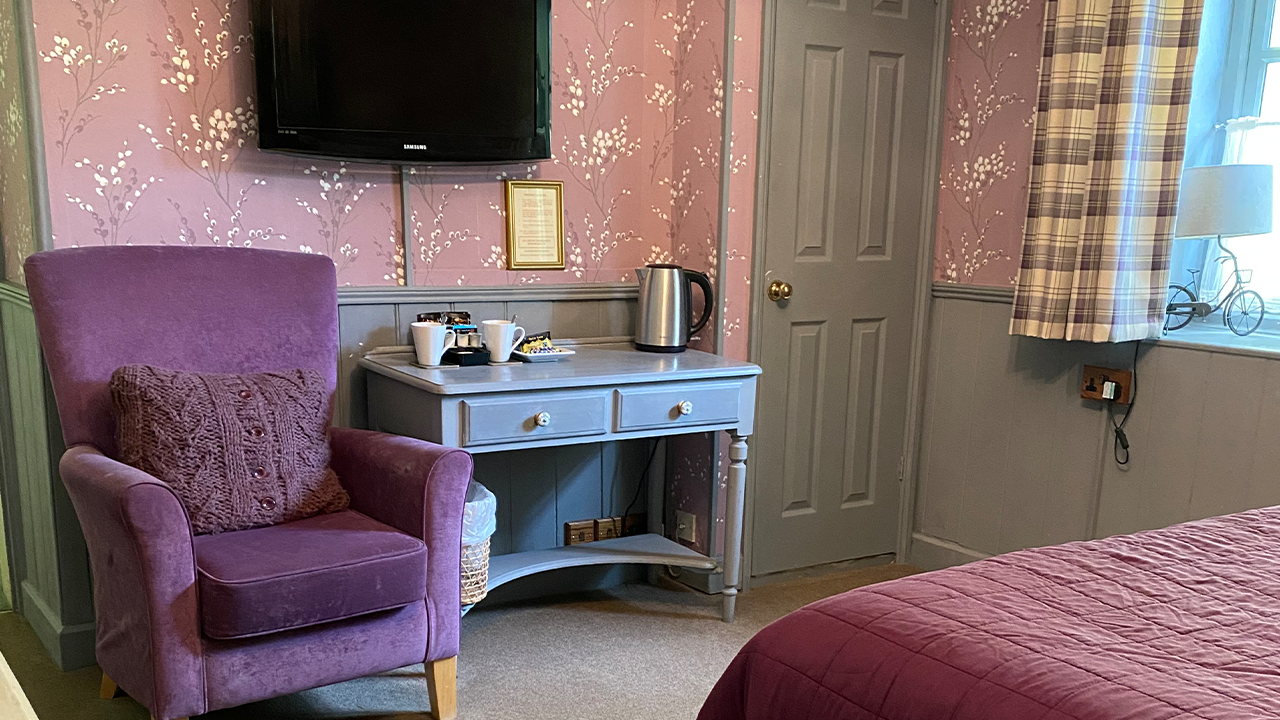 Room 6 - Floral Escape
A double room on the first floor that still has its original wood panelling in great condition. Light, airy, and full of charming features.
Get comfortable in the king-sized bed or relax in the spacious bathroom, which includes a corner bath plus shower.
Laura Ashley décor features throughout giving it a floral freshness. Look out for the clock cushion and bicycle lamp.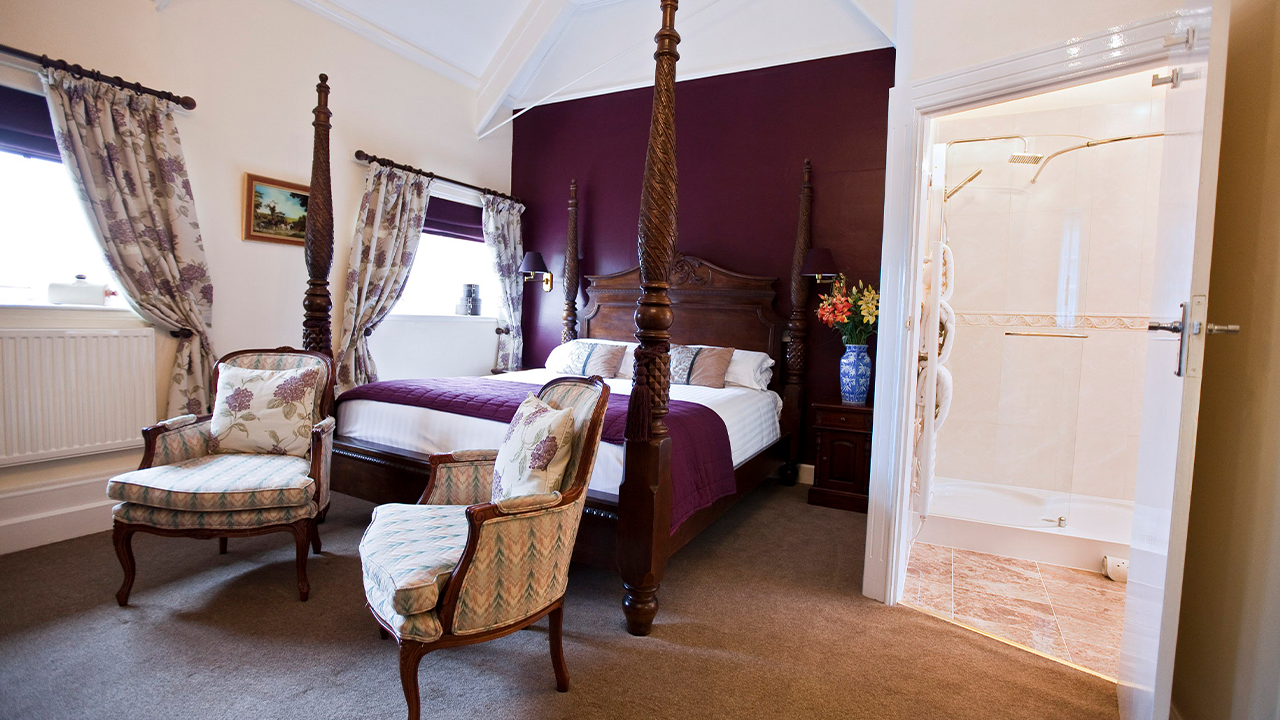 Room 10 - Victorian Grandeur
Our second luxury double room with a double height ceiling due to being part of the old school dormitory. 
Full of lavish Victorian decorations and features including a mahogany four poster bed and wardrobe. Great for lovers of the era.
Its spacious bathroom is fitted with a large walk-in shower and a double-ended bath for maxiumum comfort.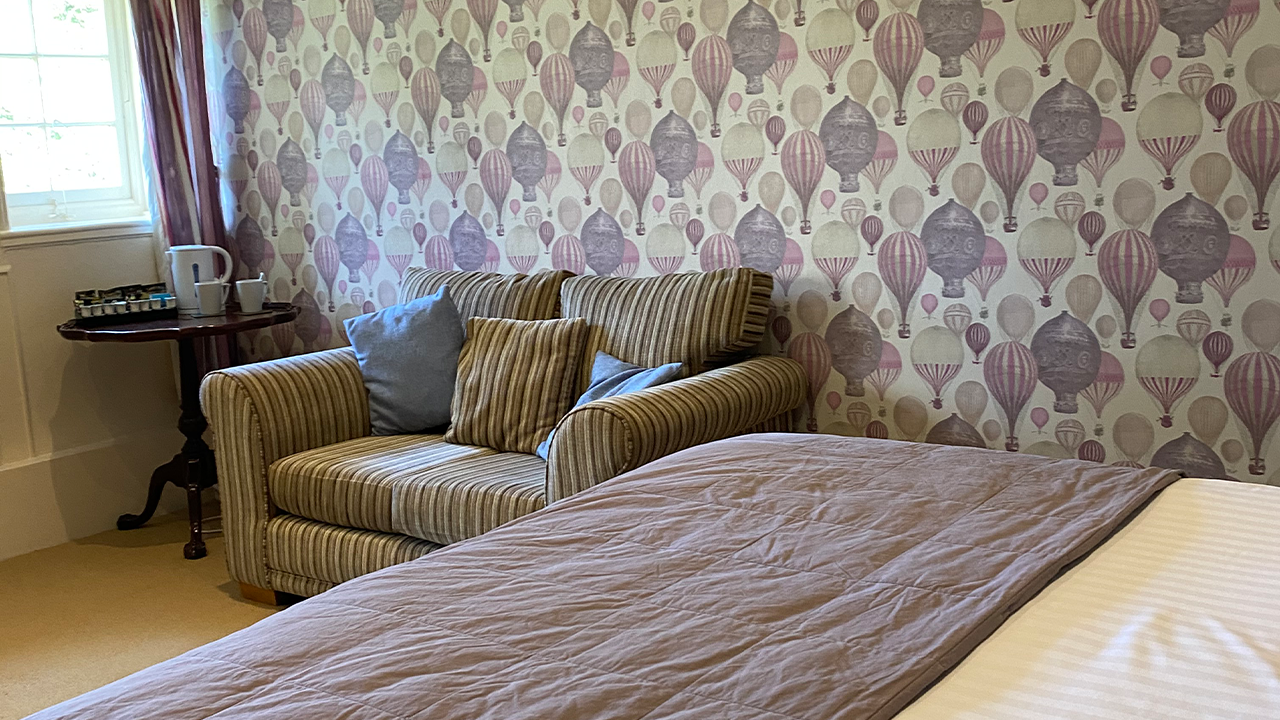 Room 14 - Hot Air Balloons
Let go of your worries and feel lighter than air in our hot-air balloon room. It's a double room with a king-sized bed, but can also be a twin.
Being at the front of the hotel and on the first floor lets you truly feel high in the sky as you look down on our beautiful garden.
Come back down to earth in comfort with the sofa in the sitting area. Also includes a bath with shower.
Room 2 - Breathe Easy
This spacious ground floor room is contemporary and accessible. Can be double or twin. Wheelchair friendly.
Enjoy great views overlooking our rejuvenating garden as well as the elegant Laura Ashely décor inside.
Includes a large walk-in shower. We also welcome you to stay in this room with dogs.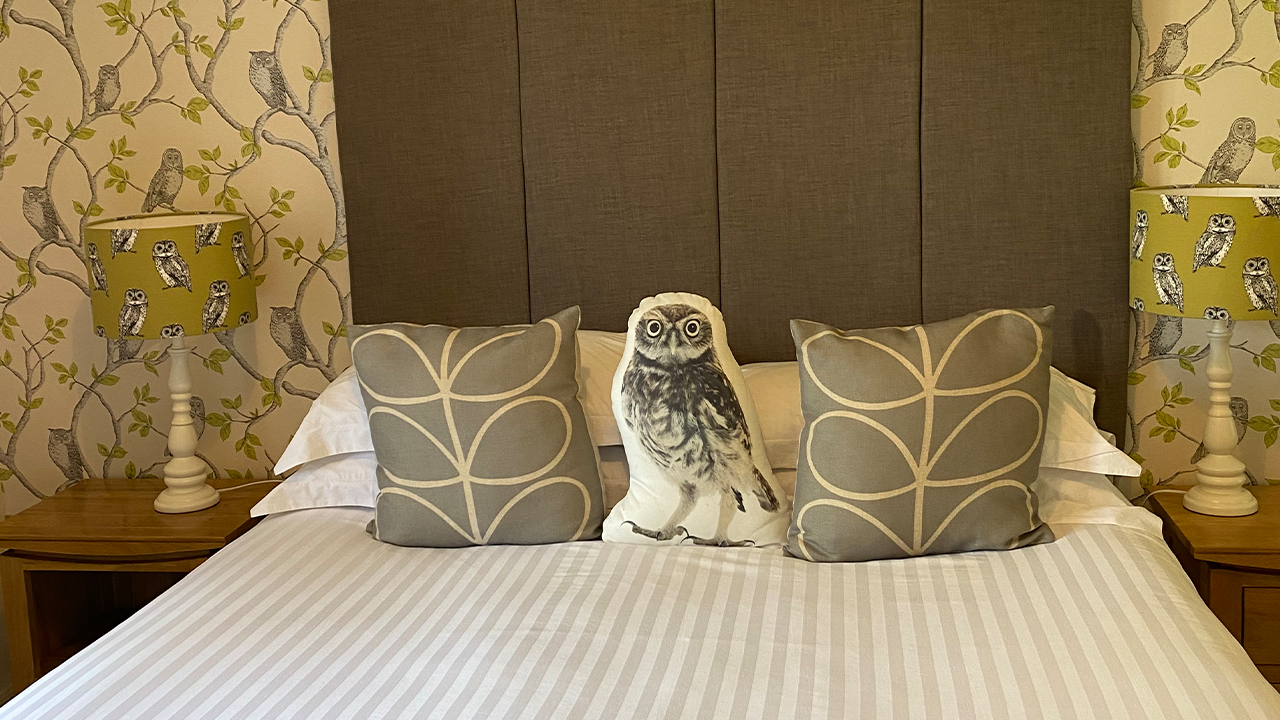 Room 5 - Owlery
This double room on the first floor is a right hoot! Sleep in the company of the guardians of the night – owls.
You'll find owl wallpaper, pillows, lampshades, and pictures. See if you can spot anymore avian features during your stay.
Located at the front of the hotel means this room offers great views of the garden. Includes a king-sized bed and walk-in shower.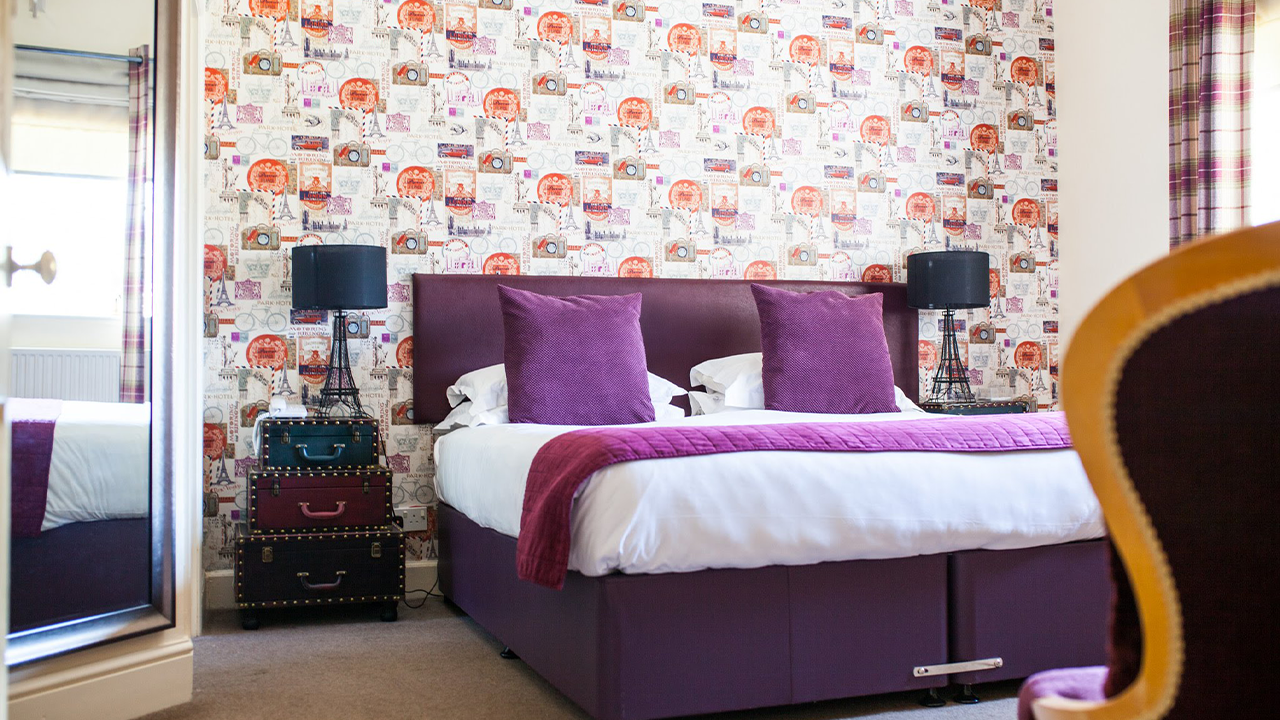 Room 8 - Traveller's Stay
This luxury double room comes with a super king bed, or it can be made up as a twin room.
It has a double height ceiling from when it was part of the old school dormitory. A schoolboy's name is scratched into the window.
Has a travel theme most noticeable in its feature wall, carried out through the Eiffel Tower lamps and suitcase side tables.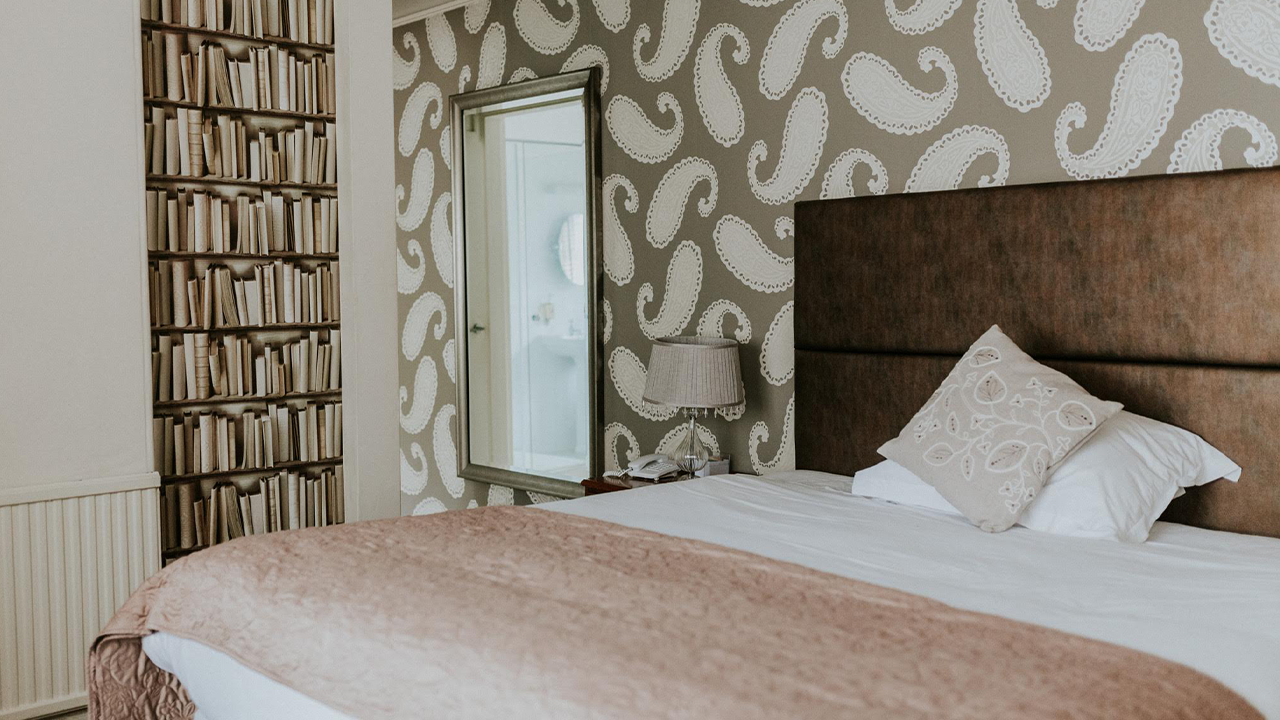 Room 11 - Pampered Paradise
Fancy pampering yourself a little? This double room features a huge bathroom with walk-in shower and a double-ended bath.
The toilet is in a separate room so you needn't be disturbed as you soak yourself and enjoy the peace and quiet.
A king-sized double bed and Laura Ashley décor means the feeling of bliss carries throughout the entire room.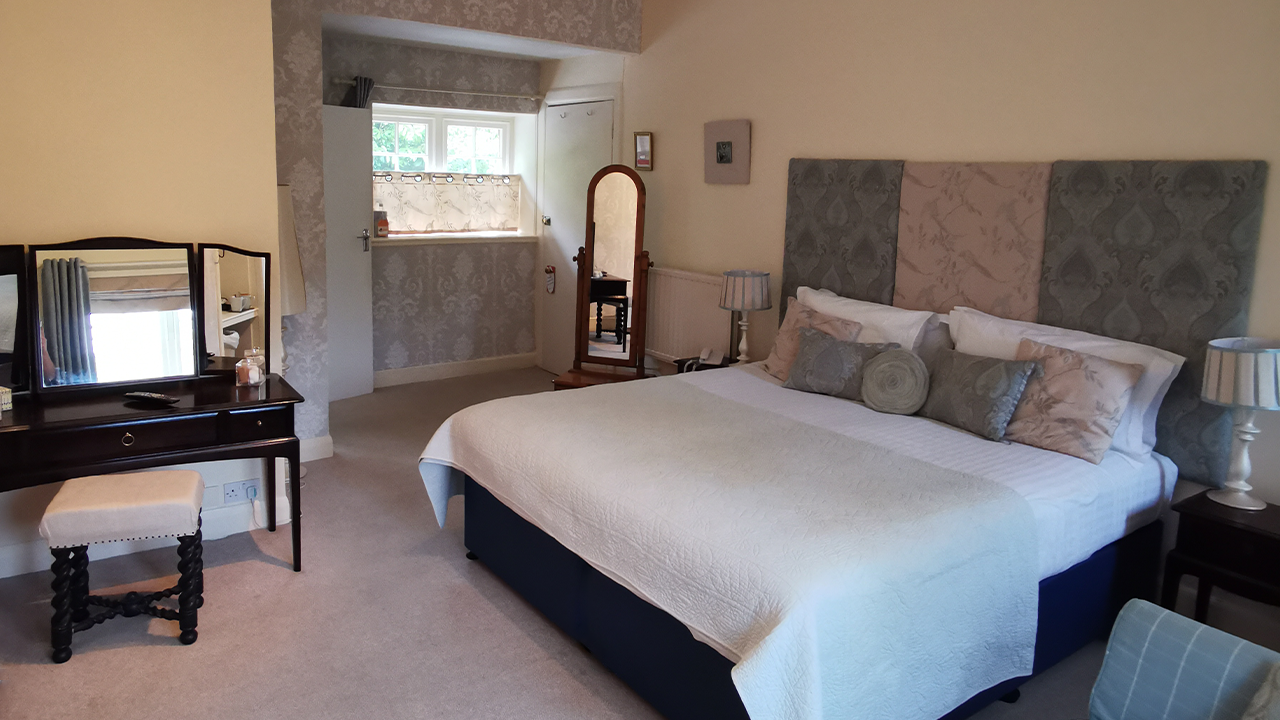 Room 15 - Spring Time
Get refreshed with this light and airy double or twin room with a Spring theme – flowers, sunshine, and growth.
Enjoy the flowers on the walls and then turn your gaze to the real petals just outside the window.
Wind down on the comfy sofa in the sitting area before scrubbing yourself clean in the walk-in shower.
The Edgemoor Hotel
Bovey Tracey, Dartmoor, Devon