Weddings at The Edgemoor Hotel
---
Here at The Edgemoor, we pride ourselves on creating the perfect Devon wedding for you and your loved one.
In the beautiful grounds and historic building of The Edgemoor Hotel, you can tie the knot in the presence of your family and friends, or just the two of you.
With over 20 years' experience, Becky, Nick & Charles, our dedicated wedding team, have a whole wealth of knowledge and inspiration to guide you through the experience of planning your wedding day. From saying 'I do', to the first dance, whatever your taste and your budget, they will work with you to make your dream day a reality.
We get consistently great feedback from all of the couples who have married here at The Edgemoor Hotel, that's why we were awarded the Westcountry Wedding Award last year, winner of the South West Wedding Awards in 2014, and finalists in 2015 & 2016.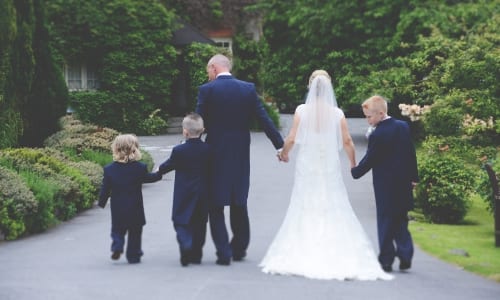 Here's what Claire & Matt had to say after their wedding:
"We cannot even begin to stress how amazing you have all been! Our entire wedding planning process has been spectacular with a venue who really listened to us, focused on what was important to us and was incredible in your unparalleled aim to please. Nothing was too much for you."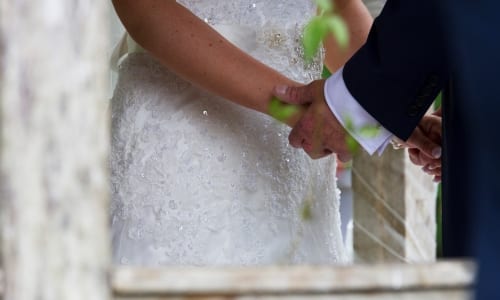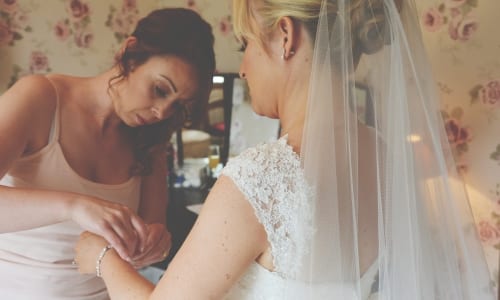 Your day, designed by you
No two relationships are the same, so why should two weddings be the same? Every wedding at The Edgemoor is beautifully unique and reflects the needs, wants and wishes of the Bride & Groom. After all, it's your special day.
From small intimate weddings in the old chemistry labs, to large summer weddings outside in the old school grounds, you can tailor your perfect wedding day in any way you see fit. We are a completely flexible wedding venue.
We have seen everything at our weddings: bouncy castles, hog roasts, karate dances, school buses and horses to name a few. Our unique weddings are all about having great fun, however you see fit, in a relaxed and friendly environment.
---
We're A Dog Friendly Wedding Venue
We're big dog lovers here at The Edgemoor. So we are delighted to invite dogs to not only come to the wedding, but to come and stay at the hotel too. We have special rooms that are perfect for dogs which come with an outside terrace area to give them some room to explore and investigate.
Close by to The Edgemoor is some woodland which is great to tire the dogs out in. Of course, just two minutes up the road is the beautiful Dartmoor National Park, an absolute dog haven. Then just a twenty minute drive away, lies miles of beautiful coastline with many beaches allowing dogs all year round.
After the ceremony, we don't make you leave your dog locked away in the room. Where's the fun in that? Thanks to our relaxed atmosphere in the bar, your dog is allowed in here and any dog-friendly rooms.
Read all about how we cater for dogs at The Edgemoor in our dog-friendly rooms section
---
The Perfect Dartmoor Country Wedding
The Edgemoor Hotel is perfectly situated right on the edge of the wild and rugged Dartmoor National Park. If you're looking for a wedding venue with that real rural but refined feel, you can't get much better than The Edgemoor Hotel.
With bright heather and gorse covering the land, wild ponies and burning pink sunsets, there really is no place more mystical and breath-taking than Dartmoor. Just 2 miles up the road is a land steeped in folklore and dotted with great country pubs that haven't changed for a century.
A Dartmoor Backdrop
The stunning Haytor Rock is just a 5 minute drive up the road. Many couples choose to whizz up to the momentous stop with their photographer to include it as a memorable backdrop to their Dartmoor wedding day photographs.
We have many local wedding photographers who know Dartmoor countryside extremely well and know all the best spots for that perfect moorland wedding shot.
Depending on the time of the year of your wedding, you can have a photoshoot in the sea of bluebells near Hound Torthrough to the stacked tors and flowing rivers that cover the moorland.
To get a real feel for the variety and unique beauty that the Dartmoor countryside has to offer for your wedding day, watch this short time lapse video.
---
Same Sex Weddings at The Edgemoor
With friendly staff, beautiful grounds and a relaxed atmosphere, The Edgemoor is the perfect gay wedding venue to hold both your wedding ceremony and your reception. We warmly welcome same sex couples to get married, convert a civil partnership to a marriage, or hold a civil partnership ceremony here with us at The Edgemoor Hotel.
---
Last Minute Arrangements
Runaway Weddings on Dartmoor
If small, intimate and romantic is more your style, why not go for one of our 'runaway weddings'. Perfect for a small group, last minute arrangements or when you want it to be just the two of you. Our runaway weddings are designed to give you a stress free and relaxing day that you can fully immerse yourself in.
Just the two of you
Our Runaway Weddings are the perfect excuse to tie the knot without the stress and worries of a large group of guests. After all, your special day should be all about the two of you. You can head up to Dartmoor for a photoshoot with a local photographer who knows all the best spots. Knowing that you're not leaving any guests waiting back at the hotel, you can take all the time you want, doing whatever you see fit on your special day.
---
Off-Peak Wedding Deals
The months of Jan, Feb, Oct, Nov these can be our quieter times, please speak with us to see how flexible we can be with our prices for you.
---
The Perfect Outdoor Wedding Venue in Devon
The Edgemoor Hotel is a fully licensed venue and can marry couples outside in the gorgeous grounds of the old grammar school. We have a stunning custom-made wooden gazebo which couples often choose to tie the knot in. There is a beautiful approach from the Old Headmaster's House up to the altar through all of your family and friends.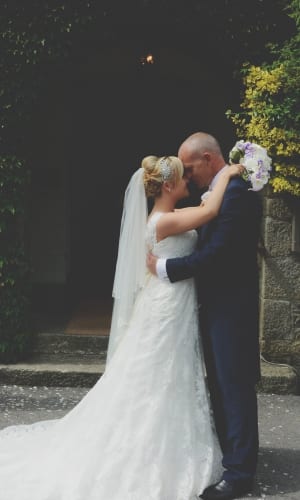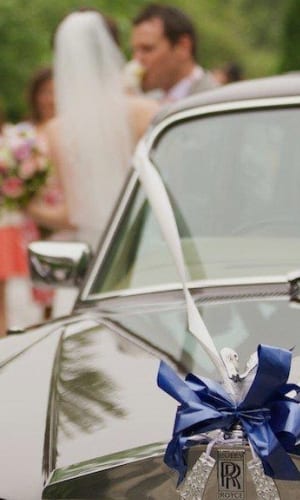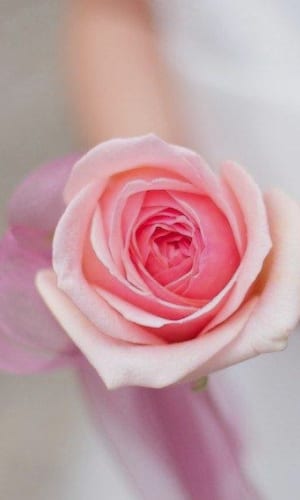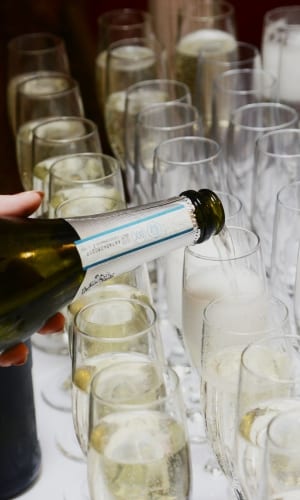 The whole place, to yourselves
Quite often with weddings at The Edgemoor, the bride and groom decide to take over the whole hotel. Exclusive use means you can really let your hair down and make it your home-from-home with everybody you know and love. Our enchanting South Devon wedding venue can be exclusively yours. For however long you wish.
Take a peek at our wedding brochure to read more about our wedding packages here at The Edgemoor in South Devon. Or, contact the wedding team to arrange a viewing; we just can't wait to show you around!
Wedding Brochure
To download our wedding brochure please provide some simple details about you and your special day.