Conferences at The Edgemoor Hotel
---
Are you holding a conference or talk for your business? The Edgemoor Hotel is ideally situated just 5 minutes off of the A38 at Drumbridges Roundabout. Being right on the edge of Dartmoor, it is a unique location in which to entice your guests.
Function Rooms
We have two function rooms which you can tailor to make your business conference or talk work exactly the way you want it to. We are fully equipped to hold up to 110 people in our bright and breezy Lowerdown Function Suite and 35 delegates in our smaller, more intimate Old School Rooms, both of which are on the ground floor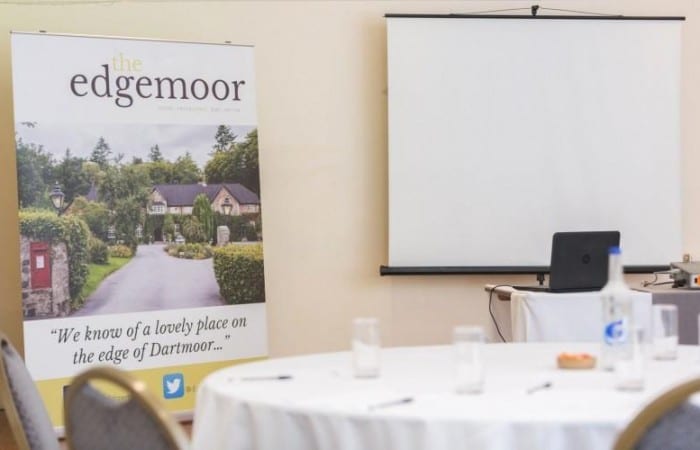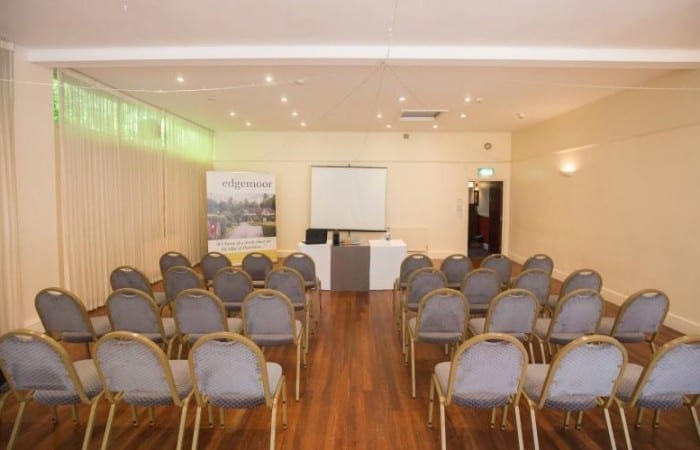 Lowerdown Suite
A bright, airy, blank canvas for you to make your own.
Theatre 110/ Boardroom 40/ Cabaret 65 / U Shape 40
---
Old School Rooms
Quirky, characterful and steeped in history, this room is an icebreaker in itself.
Theatre 35/ Boardroom 20/ Cabaret 24/ U shape 20
---
Conference Packages
We do have some conference packages available, however don't feel bound by this. We would be thrilled to create a custom made package with you based entirely on your needs.
---
Business Meetings & AGMS
Maybe you're looking for something a little more private and confidential? We can host your business's next meeting or AGM. Why not impress your colleagues and go for something a little different this year? The Edgemoor is a welcoming break from the regular board room. We think it's time to put some excitement back on to this year's agenda.
---
Team Building & Team Work
Who says business can't also be pleasure? We see Dartmoor as the perfect grown up's playground, and what better way for your team to enjoy it than from The Edgemoor Hotel. Within a short distance from the hotel we have a whole host of fun, exciting, adrenaline pumping and educational team building events which will definitely be remembered.
All of these activities, and more, are possible very close by to The Edgemoor Hotel:
Clay pigeon Shooting
Go Ape
Go Segway
Foraging
Dartmoor Survival
Abseiling
Rock Climbing
Kayaking
Archery
Beekeeping Demonstration
Pottery Demonstration
---
Residential Conferences
We can create tailor-made 24 or 48 hour packages to include great rates on accommodation for those wishing to make a trip of it! Just imagine, you can be having your business meeting one morning, horse riding on Dartmoor in the afternoon, washing it down with great wine and a meal of fresh, local and seasonal produce in the evening. Wake up the next morning for your morning conference, followed by kayaking down the River Dart in the afternoon. Could a work conference get any better?
Contact the team today to enquire about your business trip to The Edgemoor: 01626 832466